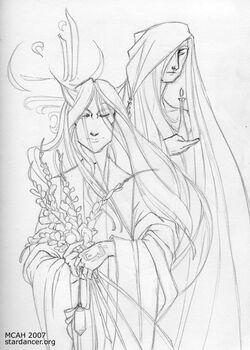 Black Blossom
is a novel set in
Kherishdar
following the events of
The Aphorisms of Kherishdar
and
The Admonishments of Kherishdar
, in which
Shame
and
the Calligrapher
are called upon to investigate problems at a noble house which as been in contact with
aunera
.
Black Blossom was a serial that began on February 4th, 2011 and concluded on July 31, 2012. It updated on Mondays, and if donations broke a predetermined threshold, readers got an "extra" on Fridays. Extras included any of a number of things, such as art, interactive Q&A-style meta-conversations with characters from the story, vocabulary or encyclodedia entries which gave insight into bits of Ai-Naidar society, or other related materials.
The complete novel was released for sale on December 10, 2012 in paperback and ebook formats.
This novel is written in a form of communal storytelling the Ai-Naidar call maralevani, or a reverse guided-tour, in which the reader has a chance to influence the story by asking questions or making observations which the writer may weave into the fabric of the tale.
In this sequel to The Aphorisms of Kherishdar and The Admonishments of Kherishdar, the gentle Calligrapher is sent to succor the broken priest of Shame. Will he be in time to rehabilitate one of the empire's greatest assets? And what will happen in the House of Flowers? A genteel, conversational fantasy of society, culture . . . and the perversions that threaten them.
List of Paintings from The Book of Truth and Flowers
Edit
The paintings done during the dareleni, which form a dialogue between the Calligrapher, Shame, and the situation at Qenain, in the order they were painted:
Qet
Maien
Esar
Shemailn
"guilt"
Evrul
Agathe
Henej
Qil
Shul
Ukulij (collaboration)
Yan
Paisath
See Also: Descriptions of the paintings in The Book of Truth and Flowers
Notable Characters
Edit
The Head of House Qenain
The Physician
Purchase Details
Edit
Black Blossom completed serialization on M.C.A. Hogarth's LiveJournal on 20 December 2013, and is archived at the Black Blossom hub on her website.
| Format | Pgs/Size | Cost | ISBN/ASIN |
| --- | --- | --- | --- |
| Paperback | 390 pgs | $18.99 | ISBN-10: 1478247797 / ISBN-13: 978-1478247791 |
| E-book | 2295 kb | $4.99 | ASIN: B009M69XIS |
Community content is available under
CC-BY-SA
unless otherwise noted.