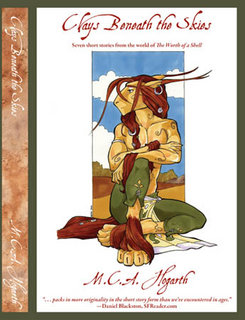 Clays Beneath the Skies
is a collected volume of individually available
Jokka
short stories.
The Clays paperback was published independently through Createspace on June 5, 2011, with production supported by reader donations. The e-book was available from Amazon on July 1st.
The false diviner whose prophecies turn out to be true… the storyteller who risks everything to explore the taboo of cross-sex love… the traders who dare to explore the furthest reaches of the map and the runaway who learns to heal. Clays Beneath the Skies collects seven stories of the Jokka of Ke Bakil, an alien species with two chances at puberty to change sexes: female, neuter or male… a species crushed between the harshness of their world and the imperatives of biology. Whether it's creating a new religion or choosing to accept the hand of a strange male in a dance, each Jokkad makes sense of its world in its own way. Seven voices. Seven choices. A completely alien world. Come explore. Includes the Strange Horizon's Reader's Choice story "Unspeakable," and the Tiptree Reading List story "Freedom, Spiced and Drunk." With special foreword by Hugo Award-winning editor Susan Marie Groppi.
Collected Materials
Edit
The volume includes a foreword by editor Susan Marie Groppi, seven interior black and white illustrations created for the collection, and backmatter consisting of a chronology and glossary.
Purchase Details
Edit
Clays Beneath the Skies serial is available for purchase in either paperback or e-book formats.
| Format | Pgs/Size | Cost | ISBN/ASIN |
| --- | --- | --- | --- |
| Paperback | 198 | $15.00 | 0615490891 / 978-0615490892 |
| E-book (Amazon) | 628kb | $3.99 | B0059K0EAM |
Interior Illustrations
Edit
Community content is available under
CC-BY-SA
unless otherwise noted.