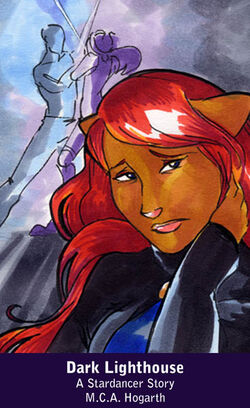 "Dark Lighthouse" is a short story in the series following the crew of the UAV Stardancer, set in the Paradox universe of the Pelted. It was originally published in Anthrolations #3.
After ferrying supplies to thirty-nine space stations, First Commander Taylitha Basil of the UAV Stardancer is ready to move on to something less dull... but it turns out the station commander at their final stop is a great sword-fighter, funny, handsome, interesting...
...and also human, one of the species that engineered her own race long ago. What do you feel about the people who played God?
This mostly unresolved plot screams sequel. Which has not happened yet. It was an interesting character sketch, some action. But one definition of tragedy is a story where the hero does not fulfill their destiny. Recommended for Stardancer, or Taylitha story fans, and a good story overall.
Notable Characters
Edit
Purchase Details
Edit
"Dark Lighthouse" is available for purchase as an e-book.
| Format | Pgs/Size | Cost | ISBN/ASIN |
| --- | --- | --- | --- |
| E-book (SW/Amazon/B&N) | 34kb | $0.99 | B0044XV8R8 |
Community content is available under
CC-BY-SA
unless otherwise noted.