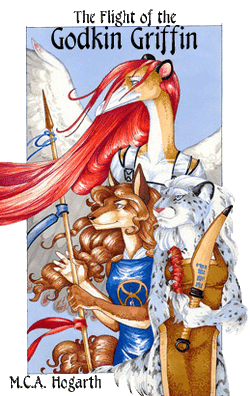 Flight of the Godkin Griffin
is a novel length work which takes place in
Shraeven
, a newly pacified province of the
Godkindred Kingdom
. It follows Angharad Godkin and her military company as she crosses the province on orders from the Godson himself to replace the governor, and meets both assistance and resistance from unexpected quarters.
Godkin was M.C.A. Hogarth's first foray into crowdfunded publishing, and ran as an interactive serial from the first entry on October 9, 2003 to the epilogue on June 9, 2009. The story was public and free to read, but anyone who tipped/donated $1 or more could participate in the polls at the end of each entry, voting for events which would directly influence the story.
M.C.A. announced she was going to begin work on a print edition in April 2011. The story will be published as a duology by Sofawolf Press, the first of which will debut in June 2012 at Anthrocon.
Angharad Godkin of the Sunblood Cliffs led a regiment of the Godkindred Kingdom's army for 34 years. During that time, she won more battles for the Closest Kin than any other Mistress or Master Commander. Her regiment was responsible for the annexing of Glendallia and Surviue provinces. She's been wounded more often than any other commander, broken more bones, and acquired more medals than she has room for on her slender body.
In short, she's ready to retire.
But the kingdom has more in store for Angharad than a quiet and scholarly retirement, and you have a hand in her fate. Join Angharad weekly for her fictional adventures and see her life unfold.
Notable Characters
Edit
Chordwain, Governor of Shraeven
Colblain Sixblood
Oweir Threeblood
Mongrel Characters
Edit
Shraevenese Characters
Edit
Purchase Details
Edit
The Flight of the Godkin Griffin serial is still free to read on the Godkin LiveJournal, and is also available for purchase as in e-book format. The paperback edition is being published in two volumes, the first of which is available direct from Sofawolf. Volume two is scheduled for release in spring of 2013.
| Format | Pgs/Size | Cost | ISBN/ASIN |
| --- | --- | --- | --- |
| Paperback (Volume 1) | 275 | $17.95 | 978-1-936689-19-4 |
| E-book (SW / Amazon) | 691kb | $5.99 | 9781476285580 / B008CRU6DO |
Community content is available under
CC-BY-SA
unless otherwise noted.