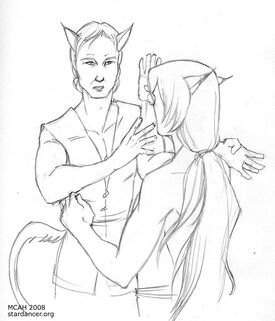 Throw in here discussion of Guardian-talk and Guardian-gaze. Also tools of the trade; the rules governing what weapons are used against aliens vs people vs animals/etc. Talk about the duties of Guardians (patrolling/guarding foreign embassies or trade houses/bodyguarding/military/police/fire fighting etc). Discuss concept of Guardians as Ai-Naidar who are able to respond to violence, whether that's from people or nature (they do the work of animal control officers, for instance). Talk about history, of earlier times when bodyguards actually had real work. Founding/training Houses. The ties to Saresh, god of aggression, and Saresh's priesthood.
Traditions
Edit
Freedom of Speech
Edit
There's a word for it, even, "guardian-talk," which is to say outrageous in every particular. We grant a great deal of latitude to those who feel called to give their lives for us.
The Ranks
Edit
Regal level guard
Regal minor level's guard
Army officer
Naval officer
Noble city guard
Noble country guard
Army rating
Naval rating
Merchant guard
Land guard
Community content is available under
CC-BY-SA
unless otherwise noted.