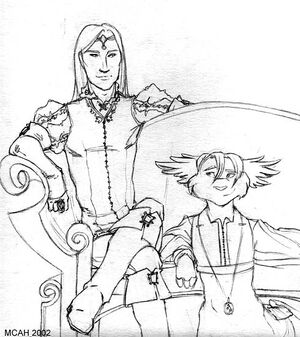 Esper and psychiatrist, Jahir is one of the few
Eldritch
living off the homeworld. Partner to
Vasiht'h
, the Glaseah, with whom he runs his practice on
Starbase
Veta.
General Description
Edit
Of middling height, Jahir has the typical body structure of an Eldritch, long and lean. He wears his hair shockingly short for a man, just touching his shoulder blades, usually without ornament but with occasional strands of modest beads (amber or semiprecious stones like jasper). He also dresses modestly in Alliance-standard fashion, but wears his House ring. He has copper eyes (or orange, or dark yellow depending on the light) and a square jaw, and his speaking voice is a low tenor.
Of habits: he is a morning person, moody but analytical, prone to brooding, driven, conservative but adaptable and very curious.
Of abilities: he can sing, play several instruments (piano and some form of lute), rides horses like he was born on them like most Eldritch, is not all that fabulous with a sword but learned them and keeps one with him, in a trunk.
He appears to be a coffee and tea drinker, primarily, with some chocolate/mocha leanings. Rarely partakes in alcohol. And hates warm milk. Particularly honeyed.
Education
Edit
(still rough) In college, Jahir took the dual medical/clinical xenopsychology program, which means he's the equivalent of a nurse (in the Alliance they're called healer-assists). His concentration was toxicology/pharmacology. The clinical xenopsychology coursework covered biological, social, cognitive and affective aspects of behavior, with specific classes on xeno-interaction and a side of anthropology classes. There was a required clinical component for assessments and interventions as well, and a required practicum per semester. Plus ethics and professional classes. There was no thesis, which was waived in favor of the practicum.
The medical program was a sort of masters in medical science in pharmacology and therapeutic medicine with a clinical component. Classes there involved health assessment, pathophysiology, a specific biochemistry/chemistry class for healers-assist and health management classes for both the chronically and acutely ill, plus residencies.
This degree is a four-year program for full-time students, and graduates are both qualified to apply for licenses as healers-assist, and have the equivalent of a masters degree in psychology. Jahir did apply for that license and still holds one, though he doesn't need it to practice as a xenotherapist.
Six years into his partnership with Vasiht'h, the events in the novella "Family" take place.
Eight years later is Sediryl's visit to the starbase.
There's a note here: "isn't able to break the taboo with S until after "Petals"."
Related Fiction
Edit
MindTouch (The Dreamhealers Book 1)
MindLine (The Dreamhealers Book 2)
DreamHearth (The Dreamhealers Book 3)
DreamStorm (The Dreamhealers Book 4)
Xenopsych Case Studies (included in the back of DreamHearth and DreamStorm)
Healer's Wedding (Jubilee Summer Book 1)
Farmers Crown (Jubilee Summer Book 2)
HeartSkein
Community content is available under
CC-BY-SA
unless otherwise noted.