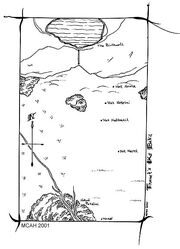 The homeworld of the Jokka.
Population
Edit
At the time of The Worth of a Shell, Ilushet estimates the population of Ke Bakil at about 100,000 people.
Historical climate here, as well as current.
See also: Jokku Plants
Distances
Edit
From notes:
672 miles from het Narel to het Kabbanil
200 miles from het Kabbanil to het Nekelmi
150 miles from het Nekelmi to het Noidla
1350 miles from het Serel (at the Neked Pakalmi) to het Narel.
The passage through the mountains to the Birthwell is listed as "ten days on foot."
List of Major Landmarks/Features
Edit
The Birthwell
Neked Pakalmi, the only major forest remaining on the continent.
List of Major Cities
Edit
het Kabbanil, the largest city, with the greatest number of ruins from the Mystery Age.
het Bakka
het Serean, the first settlement following the end of the Mystery Age. Settled by Serel, the eperu
het Serelni, home to Fatha Gesha-emodo of "The Smell of Intelligence"
het Uren
het Noidla, at the foot of the mountains
See also: Jokku Settlements
Creatures Native to Ke Bakil
Edit
Genarabi. A predator common to the middle-northern ranges, near trees or forests. Shoulder is about hip-high to a Jokka. Change fur coats for the seasons. Good eating.
Kippel
Nibbler. These are small rodents. There are forest versions and plains versions.
Drekdok. Small gazelle-like relatives of the rikka who live on the plains.
Qedonni (something with gray fur that lives in more northerly areas)