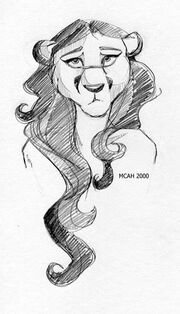 Physical Description
Edit
Conceived in Tisilae and born in Tisiis, which makes her sign... Guardian/Lover.
An alto. Wiry. Lionish. Black claws. Dark eyes. Dark curls. Tufted tail.
One of many by-blows by a pirate captain, whose get were all feline mixes. She herself ended up among the pirates in a raid that took her and her mother both, and she was mistaken for a boy by her tomboy looks. She has seventeen brothers that she knows of.
Brothers Lexander (tiger stripes), Donnik (mostly lion with some spots). Nekor (dead by her own hand, when he was trying to kill Qethryn in Selimaeth).
Her father is also dead by her own hand.
She has Qethryn's (jewel-encrusted) knife in her back-sheath.
Community content is available under
CC-BY-SA
unless otherwise noted.