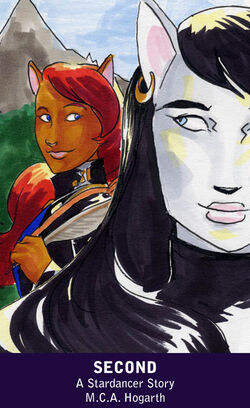 Second is a novella set in the Paradox universe.
Ensign Taylitha Basil didn't know what to expect at her first officer training retreat. Hiking up a mountain? She's never hiked. Canoeing back down it at the end? She's not a great swimmer. Dealing with an obnoxious peer who declared himself leader of their expedition? Definitely not in her plan. Meeting the woman who'd become her captain and friend for years to come? Bring it on.
Author's Comments
Edit
I've known since the mid-90s how Taylitha met Alysha Forrest, for whom she would work for most of her adult life... on a camping trip that turns part philosophical tale, part buddy story and part adventure. A few years back I wrote the story, which ran to the dreaded, unsaleable novella length; at about 120 pages it was too short to pitch as a novel and too long to sell to magazines (though in fact, I did end up accidentally pitching it to Sharyn November at Firebird Books as a YA novel—we both agreed the protagonists were too old at 21-22ish, though she thought it was well-done).
Notable Characters
Edit
Secondary Characters
Edit
Lieutenant Cane, Taylighta debrief
Cawdori, Karaka, strips and spots on golden fur
Damien, "Dami" Aera Valery Lt Commander who is 4 foot tall with sharp points on wisend muzzle, hard tail.
Delin, seersa, shared footpad solution with Taylitha
Herville Candesse, head of rescue team,
Jender Forthstars, tam-illee foxine, hike 'buddy' with Mike Beringwaite
Johnigan, carrot red hair, human, "Red Twin" called so by Taylitha and the crew, 'twin' to Taylitha
Kairell Ruyt, Hinichi wolfine, complaining on dock and on the Nightslip
Kristil, Roben's trail buddy
Roben, silvery male tam-illee foxine
Unnamed, only refered to as Lieutenant commander Ciracaana
Boat rental and site
Edit
Fleet Quickwater Reserve
Many pictures of Taylitha and Alysha as they have more adventures
See those characters for the extensive art on each.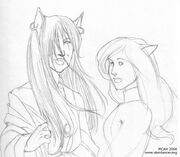 UAV Nightslip, Taylitha's ship

UAV Diamondwing, Battlecruiser, Alysha's ship
Purchase Details
Edit
Second is available for purchase in e-book format.
| Format | Pgs/Size | Cost | ISBN/ASIN |
| --- | --- | --- | --- |
| E-book (SW/Amazon) | 123kb | $0.99 | B0045Y1N9E |
Community content is available under
CC-BY-SA
unless otherwise noted.