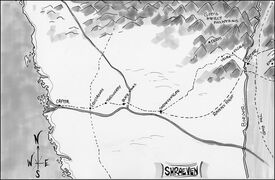 A province (or country, depending on who you ask) in the world of the Godkindred.
Geography
Edit
Mountains on the north and east border; running down to the sea over hilly plains to a river delta where the capital lies.
Talk here about mountain tribes, pards, people of the valleys, the people by the sea.
Shraevensgate
Black Vines
Throughby
Crossroads
The Capital
Known Characters
Edit