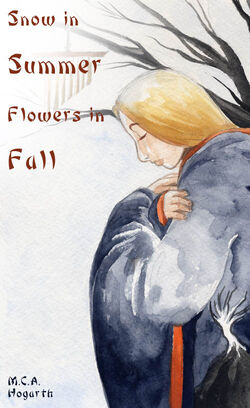 "Snow in Summer, Flowers in Fall" is a short story in the
Other
universe, exploring the relationship between a human woman and the envoy for visiting aliens, the
Khedarians
.
The e-book was published independently on April 3, 2011.
The Khedariens came in peace, and found unexpected friendship in a minor functionary of the diplomatic office. Tragedy inspired that woman to write the Khedariens into a performance, lamenting their loss. Can art heal a rift between species?
Notable Characters
Edit
Purchase Details
Edit
"Snow in Summer, Flowers in Fall" is available for purchase in e-book format.
| Format | Pgs/Size | Cost | ISBN/ASIN |
| --- | --- | --- | --- |
| E-book (SW/Amazon/B&N) | 31kb | $0.99 | B004V54GK0 |