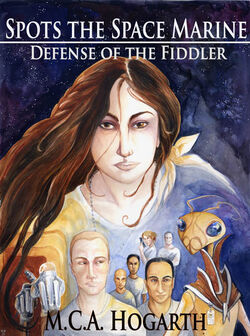 Spots the Space Marine is a novel set on an embattled asteroid in a far-flung future, in which humans and a bug-like race called Fiddlers are allied against the Crabs, their terrifyingly adaptable common enemy.
Spots is a web serial that ran from February 2009 to June 2011. Individual episodes were funded by reaching a donation cap, and a portion of the proceeds was given alternately to the Wounded Warrior Project or the Soldiers' Angels charitable organizations.
The concept for Spots sprang from the author keeping herself occupied while using her gym's elliptical machine, imagining she was in a powersuit taking down alien bugs. The story is written similarly to a script, and the style is also notable because profanity is bleeped out with asterisks (as "I don't give a ****.").
Pollyanna meets Starship Troopers in this fast, screenplay-like novel about a 30-something Marine private called out of retirement to join the war against the crabs. But shattered morale is the least of her company's problems, and their survival may hinge on an unlikely friendship forged between an alien weapons designer and a mother-turned-warrior....
Told in a terse, script-like style, with illustrated prologue.
(team leaders in bold)
Team
Kitty

Team
Wild Dog
(Doggy?)

Team
Varmint
Team
PYEO
Command
Scythe
Dusty
Roach
'Hawk
Peaches
Coyote
Flea
Griffin
Lt. Avril
Striker
Silverfish
Raven
Fang2
Pointer
Tweety
Big Lion
Hairball
Lassie
Jay
Whiskers
The Spots the Space Marine serial is still free to read at the Spots Hub on M.C.A. Hogarth's website, or you can purchase it in e-book format. The e-book includes several graphic novel-style pages that were part of the original run of the series.
On February 13, 2012, M.C.A. started a Kickstarter campaign to fund a printed version of Spots the Space Marine. The campaign ended March 5th with funding of more than 200% of the target amount.
From approximately December 2012 till Feb 7, 2013, the ebook was unavailable from Amazon. Mysteriously, it reappeared on the evening of the 7th. See Spots vs. Games Workshop. (It is also available from all the ebook sellers Smashwords ships to.)
| Format | Pgs/Size | Cost | ISBN/ASIN |
| --- | --- | --- | --- |
| E-book (Amazon/Smashwords) | 1872kb | $4.99 | B006MGJYOE |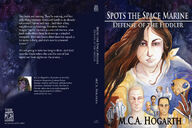 There is art based on this book, available for sale at Zazzle.com:
Circles Within Circles – a Fiddler alien in its native habitat. (Available as a poster, print, coffee mug, pin, stickers, greeting card, magnet, and post-card.)
Spots the Space Marine cover – the cover to the book. (Available as a poster or puzzle.)
Community content is available under
CC-BY-SA
unless otherwise noted.