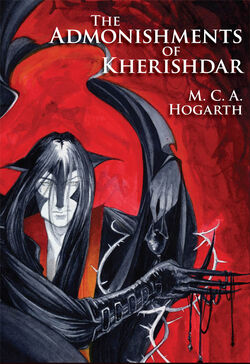 The Admonishments of Kherishdar
is a collection of short stories, called incense stories by the
Ai-Naidar
, which introduces Kor Nai'Nerillin-
osulkedi
, the priest of Shame, through first-person accounts of individuals sent to him for
Correction
.
The Admonishments
, along with
The Aphorisms of Kherishdar
, lead up to the events of
Black Blossom
, the novel-length work set in
Kherishdar
.
The Admonishments was published independently in 2008 as a crowdfunded web-serial. Readers and fans paid professional rates for both the stories and paintings that adorn the book.
In Kherishdar, when a person commits a crime, they become their sin.... Suicide. Rape. Child Abuse. Addiction. Twenty-five crimes. Twenty-five stories. Twenty-five narrators... and one minister over them all, to judge, convict and Correct the faulty: the priest who serves Shame. This companion volume to The Aphorisms of Kherishdar explores the wayward and their journey back to society, offering another glimpse into the Ai-Naidari culture. A darker, more difficult glimpse-- Without Shame, there is no Civilization.
Notable Characters
Edit
Purchase Details
Edit
The Admonishments of Kherishdar serial is still free to read on M.C.A. Hogarth's website, or you can purchase it as a paperback or e-book.
| Format | Pgs/Size | Cost | ISBN/ASIN |
| --- | --- | --- | --- |
| Paperback | 72 | $20.00 | 1442145080 / 978-1442145085 |
| E-book (SW / Amazon) | 151kb | $2.99 | B007SPZADW |
| Audibook (Audible.com / Amazon / iTunes) | hr m | $6.95 | |