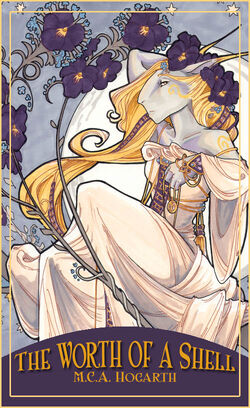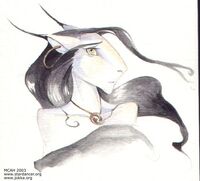 The Worth of a Shell
is a novel set in the
Jokka
Shell
setting, following the journey and trials of two runaways: a dispossessed
eperu
named Thenet, and the rebellious
anadi
Dlane. It is the first book in the Stone Moon trilogy, which is followed by
Pearl in the Void
and finally by
A Bloom in the North
.
Shell was first independently published via Createspace in 2009 in paperback form, and then in 2010 as an e-book. The original edition had a simple cover with a bust of Thenet, and in late 2011, it was changed to the current, iconic "Dlane at Dusk" image.
Born to a harsh world, we Jokka have evolved three sexes to survive: neuter, male and female. Twice in our lives we may change from one to another. A change we accept with grace... or resignation. It was our way. ...until one female defied all tradition: Dlane Ashoi-anadi, revolutionary, intentionally childless, runaway.
This is not her story.
This is mine.
I am Thenet Reña-eperu, female-guardian, voice of orthodoxy... and Dlane's first and dearest companion. This is the tale of how we changed each other... and how that changed everything.
Notable Characters
Edit
Purchase Details
Edit
The Worth of a Shell is available for purchase as a paperback or e-book.
Format
Pgs/Size
Cost
ISBN/ASIN
Paperback
402
$15.00
1449531652 / 978-1449531652
E-book
(SW/Amazon/B&N)
456kb
$3.99
B00480OGB2
Community content is available under
CC-BY-SA
unless otherwise noted.