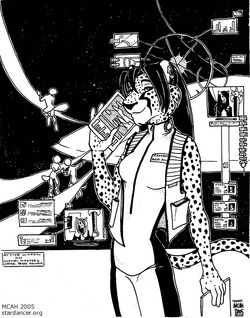 A Paradox-class battlecruiser in the Alliance Fleet. Currently captained by Alysha Forrest.
History/Commissioning/Achievements
[
]
Crew Complement
[
]
All female or neuter.
Noted: 6 crew women in Dark Lighthouse
Known Crew
[
]
Alysha Forrest, Captain.
Taylitha Basil, First Commander.
Alastar Virgil, Second Commander.
Svetlana, Fourth Commander.
Laelkii Takara Lifeweave, Chief Medical Officer.
Rashiveil, Lt. Commander.
Chelsey Ferroe, human. Bronze hair and skin, green eyes.
Darya Darteriov, pantherine Harat-Shar. Black.
Felsha Rennagan, navigator. Asanii. Golden, blonde curly hair.
Kethy Skutterby (ensign). Asanii. Cream, charcoal hair, amber eyes.
Mariledge (ensign), snow-pard Harat-Shar, tall.
Rochelle (ensign), Tam-illee.
Julien Steffis (lieutenant), engineer. Asanii. Striped.
Janny Perralta (ensign). Marine biologist. Asanii, tall, rounded. Cream, copper spots and hair, green eyes.
Jewel Thandry (lieutenant), medical.

Karaka-A

.
Previous Crew?
[
]
Stories noted in
[
]
Either Side of the Strand (fiction)